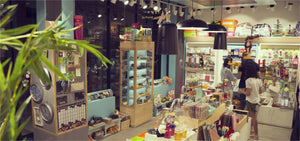 We're a homegrown Indian brand which started out in 2001 with a deep love for life, stationery, (& good food). At 'Gifts of Love' we design, make and curate boutique stationery and home accessories with the intention of creating beautiful products to Celebrate Every Day. Happy gifts which when used by you or gifted to someone, send ripples of love out into the world. And in doing this, we play our little part in this big amazing universe. 




OUR STORY
Started by a husband-wife duo, an unusual combination of a Parsi-South Indian couple who love what they do.
In 2001 we signed up for a mela with all of 5 products. Our products flew of the table and we knew instantly we wanted to open a store. Soon we opened our first store. Later we were delighted to open doors at Select Citywalk, a premium shopping destination in Delhi. We currently have 2 beautiful retail outlets and hope to expand across the country and possibly overseas. 
We don't really have a boundary line dividing our work and home life. New products are discussed over mealtimes and product ideas strike while taking a walk.  We live in Gurugram with our 13 year old daughter who is big part of 'Gifts of Love' with her creative inputs and is our best critique.
Hoofrish has lived between Delhi and Mumbai.  Parsi at heart she enjoys rustling up good food and hopes of opening up a cafe someday. She takes care of
the creative angle.  Chetan a half Parsi and half South Indian loves good food and a good champi, takes care of production and product development.
We have always believed that here is a magical energy that surrounds us all and we draw inspiration from there to love life and have fun.
Our products are available online and offline. Have a great time shopping at our store. 
If you have any query-suggestions drop us a line at mail@giftsoflove.in.